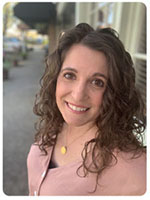 Hi, I'm Stefanie, a registered nurse and nutritional therapy practitioner dedicated to teaching women how to transform their postpartum experiences.
As a new mom, I was devastated when I experienced severe postpartum depression & anxiety. I felt so alone. I just wanted to enjoy being a mom. And I knew there must be a better way to navigate postpartum, but I wasn't sure how.
Out of the lessons I learned during and after that painful season, The PEACE Method was created.
I realized that in order to have a better postpartum experience, a holistic strategy is needed. We as mothers must be equipped for the postpartum season with: the practical information we need, the right kind of preparation and principles that shift mindsets and renew our spirits.
The PEACE Method is designed to do exactly that. It's my step-by-step signature process to help women experience more peaceful and redemptive postpartum seasons filled with God's presence.
Ready to discover how you can transform your postpartum experience?
Let's chat about how I can coach you through the PEACE Method and into the postpartum season of your dreams.