In Part 1 of the series on Victorious Birth, we talked about the importance of shifting our mindset toward birth from one focused on specific outcomes and our performance during birth to being grounded in God's presence and His truth. A key component for making this mental shift is exchanging fear for truth.
How Fear Affects Us
Why is letting go of fear so important? John 10:10 says, "The enemy comes to steal, kill and destroy, but I have come to give life more abundantly." Fear is one of the enemy's primary tactics to rob believers of the abundant life Jesus promises them. The enemy works overtime to interfere with our partnership with God to bring life into the world through childbirth.
2 Timothy 1:7 says, "We've not been given a spirit of fear but of power, love and a sound mind." This means fear is not from God. In fact, when we agree with fear and allow it to control us, it undermines the very power, love, and sound mind God desires us to walk in. This is why we must be diligent to uproot and exchange fear for truth. We do not want to allow it to guide any of our decisions about birth. Instead, we want to be guided by God's presence and truth. Operating in the power, love, and sound mind that He promises us is what enables us to tap into a victorious mindset toward our birth.
Not only does fear have an effect on our power, love, and sound mind, it also affects our physical bodies, including during the process of labor and delivery. A study
was done in Norway where, at 32 weeks pregnant, women were asked to rate their level of fear about childbirth on a scale of 1-10. Those who rated higher levels of fear had prolonged labors. This is because fear releases stress hormones in our body that act in opposition to oxytocin, which is the hormone that helps our uterus contract and bring our babies into the world. Oxytocin is also considered the "love hormone" because it's so connected to human bonding.
Fear's effect of inhibiting oxytocin is a concrete example of how fear undermines the love and sound mind 2 Timothy 1:7 is talking about. When we are grounded in a victorious birth mindset, we are operating in that power, love, and a sound mind—and there is no room for fear to rob us of what God has made available to us.
Choosing Truth Instead of Fear
How do we exchange fear? The first step is recognizing it. Fear can take on a lot of forms, but an easy way to recognize it is to first ask the Holy Spirit to reveal it to you. Second, you can be watchful of thoughts or feelings that are the opposite of 2 Timothy 1:7. For example, the opposite of power is feeling small, helpless, hopeless, and inadequate.
Or we might find that instead of a sound mind, we are experiencing worry, anxiety, racing thoughts or thoughts fixed on "what-ifs" and negative outcomes. The opposite of love can be felt as rejection, feeling alone, that you don't matter or that you won't be taken care of.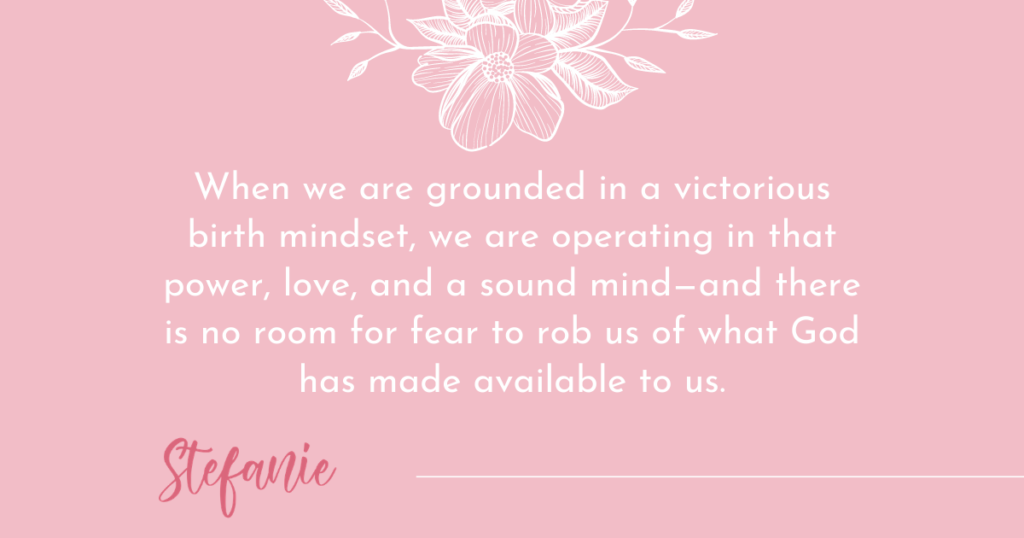 Fear often boils down to three themes: I'm all alone, I don't have help, and I don't have what it takes. The common theme here is "I" and a sense of what is lacking. When we become the focus of our situation, we are limited to our own capabilities. In essence, we are doing life in our own strength. Fear steeps us in lack by keeping us focused on ourselves so that we'll miss the abundance God has for us by turning to Him for our power, love, and a sound mind.
All of this radically changes when we exchange these fears for God's truths that: we are never alone, He will always be there to help us, and by His Spirit, we are empowered and have what it takes. This is a crucial piece of a victorious birth mindset. Our focus is steadfast on God's character, His promises, and His presence.
Exchanging fear for God's truth and a victorious birth mindset doesn't have to be complicated. As soon as we recognize a fear, "What if my baby is breech, and I don't get to try for a vaginal delivery?" we can surrender it to the Lord. "Father, I really want to have a vaginal birth because I want to experience the oxytocin-high that follows a drug-free birth. I give you my fear that this birth may not work out the way I want it to."
The message of fear in this case says, "God won't be there to help me if my birth doesn't work out the way I want it to." And after we surrender that fear, then we can ask God for an exchange of His truth, "What do you have for me instead?" His answer will always come back with a connection to what He promised in 2 Timothy 1:7: power, love, and a sound mind. "Thank you God that I can trust that You will be with me in this birth no matter what. And because You love me so much, You will work this out for my best interest, even if the outcome isn't what I had in mind."
By letting go of fear, we open the door to trusting God and tapping into His abundance of power, love, and a sound mind.
Birth Belongs to God
With my first pregnancy, I had many fears and didn't really know how to overcome them. I could recognize them and pray about them but that was it. Having fear present really cost me joy during my labor/delivery and postpartum. In fact, even though I'd given birth without drugs, I didn't experience the oxytocin-high normally associated with that kind of birth because fear and adrenaline blocked the oxytocin receptors in my brain and body. I suspect this was a factor in the postpartum depression and anxiety that followed.
Thankfully, God has brought so much healing to me since then. I no longer struggle with a stronghold of fear anymore. And I've become much more attuned to recognizing when fear begins to crop up and swiftly dealing with it. This isn't to say I haven't faced fear and had to exchange it for His truth during this pregnancy. It's been quite the opposite, actually! But because of my past experience, I now know that fear only comes to steal my joy and my peace. And I refuse to partner with it.
When I was 36 weeks pregnant (just 1.5 weeks ago at the time of writing this article), I began to feel like we might need to switch birth providers. Typical interventions for a gestational diabetes case were being suggested, and I no longer had peace with the direction things were headed.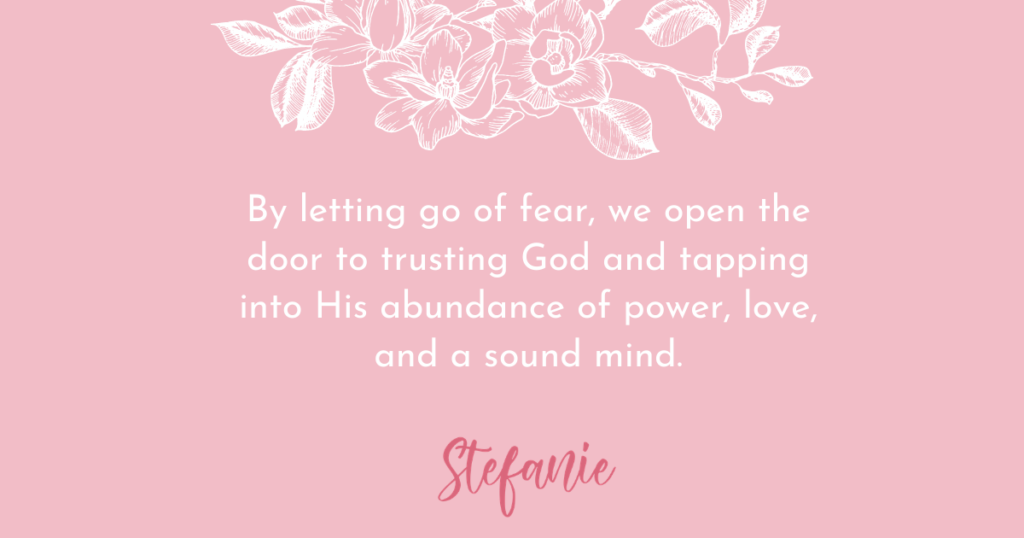 I discovered I have a strong core value to look at the patient as an individual person and not prioritize protocols over what's actually happening with the patient. In my case, the gestational diabetes has been so well controlled that my numbers probably don't look much different from someone without gestational diabetes (this has not come without some very hard work!). All other indications of growth and well-being for the baby and I were looking good. We had no signs of the complications one might look for with gestational diabetes.
I definitely felt fear at the thought of switching providers this late in the game. But as I prayed and sought the Lord, I had to trust that I was hearing His voice that I am healthy and this baby is healthy and at this time, no extra interventions are needed. God opened several doors in a matter of 24-hours for me to switch providers, but I STILL had to work through some fear about the change. Ultimately, it came down to not being able to control the outcome with birth. There is a certain reality with any kind of birth, in any kind of setting, that certain factors remain out of our control. And ultimately, I had to make the choice to entrust our future to the Lord.
Fear was threatening to steal my joy, my piece and my soundness of mind. And as soon as I recognized that, I was able to take a step back and make an exchange of fear for some truth. The truth is, I can follow God's leading to the best of my ability. I can trust that my husband's discernment is just as important as mine and that there's power in our unity. I can trust that we do hear God's voice and be led by His peace. And ultimately, I can trust that we've done our very best to steward this situation and the rest belongs to God. A wise friend once said, "Birth belongs to God. It was His idea and His design." So no matter what happens, I've chosen to stand on the truth that birth belongs to God, not fear.
Exchange Fear for Truth
In order for me to maintain a victorious birth mindset about this upcoming birth, despite the challenges that have presented themselves, the practice of exchanging fear for God's truth has been crucial. Clearing fear out of the way allows us to tap into what God promises us in 2 Tim 1:7. And it's that power, love, and a sound mind that form the foundation for a healthy mindset when approaching birth that says, "I can't fail at birth. My courage and strength aren't measured by my birth events. They are measured by my willingness to prioritize God's presence above all else and trust in His leading and His ability to work within any situation."